Finished
M4
3
7
Bea
FND
Aug. 26 7:30 pm
Finished
Women R
3
2
WFG
SHA
Aug. 26 8:00 pm
Finished
Women D
3
2
MEX
SHT
Aug. 26 8:00 pm
Finished
M2
6
3
LCH
JTF
Aug. 26 8:00 pm
Finished
M4
2
1
BLK
FND
Aug. 26 8:30 pm
COUPE DEK 3R | DEK HOCKEY HAPPENING OF THE YEAR !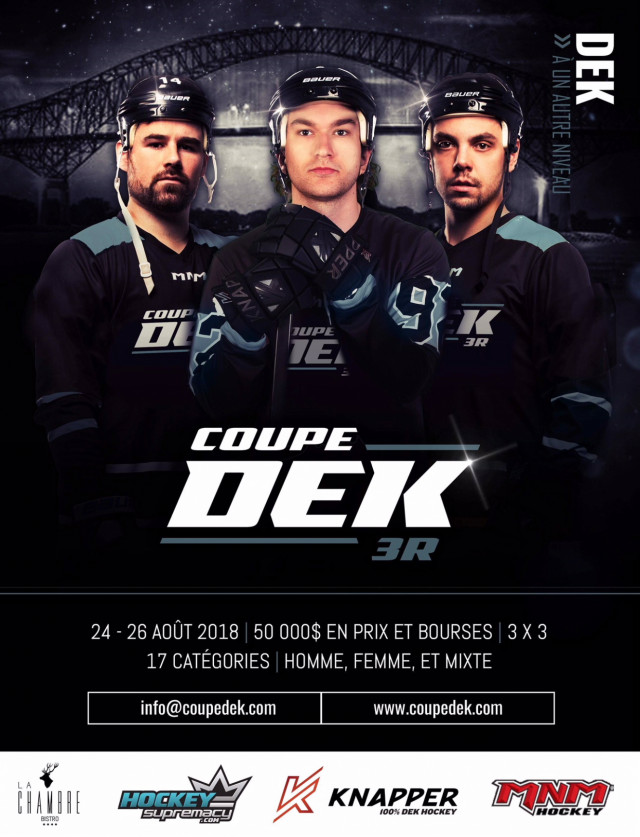 Wednesday June 27, 2018
COUPE DEK 3R | DEK HOCKEY HAPPENING OF THE YEAR !
It is already time to plan ahead for the biggest dek hockey showcase of the year : REGISTER NOW!
For the past 7 years, the third weekend of August is the rendez-vous point for all dek hockey enthusiastics! Teams from all over the province and elsewhere are joining in the biggest happening of the year!
With an 300+ average for the past 3 years, it is clearly the best DEK festival out there and you don't want to miss it!
- 70,000$ CASH & PRIZES
- 12 SURFACES / 17 CATEGORIES
- MEN : 7 CATEGORIES (A / B / C+ / C / D / E / R)
- WOMEN : 7 CATEGORIES (FA / FB / FC+ / FC / FD / FE / FR)
- CO-ED : 3 CATEGORIES (M2 / M3 / M4)
- ANIMATION / MUSIC / FOODTRUCK
- SHOOTOUT DEK92 featuring Jonathan Drouin
- HARDEST SHOT CONTEST
- SERVICES INCLUDED (camping, first aids, fruits, etc)
- 4 GAMES GUARANTEED
- LIMITED SPOTS
REGISTER NOW :
https://coupedek.com/inscriptions-coupe-dek-trois-rivieres-…
LIKE ET PARTAGE pour avoir la chance de remporter un des nombreaux items autographiés par le 92!
LE DEK À UN AUTRE NIVEAU!
Did you like this article? Share it!
x
Term of use Shark Media & Sport
The content of this site is private and purely informative. The rights of a visitor to this site cannot, therefore, be derived from the content of this website. This website is operated by and was created by SHARK MEDIA & SPORT. The data contained within this website are the intellectual property of and are copyright-protected. The data herein cannot be copied or reproduced without the prior consent of or SHARK MEDIA & SPORT, other than in contexts requiring on-line searches. However, you may print out entire pages of this site for personal use. For further information about the use of this site, please communicate with SHARK MEDIA & SPORT.